Urgent Warning Against Unauthorized Offshore Brokers NewFX, DBinvesting, and DBFX!
A few months ago, we started to cover the Maltese boiler room operator Capital Solutions and the connected offshore brokers. The Italian Gennaro Lanza controls the boiler room operations and the related offshore brokers such as NewFX, Dubai FXM, or DBinvesting. Our new review discovered that they continue with their vast unauthorized financial business in Malta but changed a few companies running the NewFX, DBinvesting, and DBFX Trades. Despite regulatory warnings, they continue to attack European consumers. Here is an update!
Key data
Brands
NewFX,
Dubai FXM, DubaiFXM Trade (offline),
DBinvesting,
DBFX, DBFX Trades,
Boiler Room
Capital Solutions Ltd, Malta
Domains
www.capitalsolutions.mt (boiler room)
https://newfx.trading, https://newfx.co, www.newfx.us
www.dbinvesting.com,
https://dbfx.trade
www.dubaifx.com (offline)
Connected individuals
Gennaro Lanza (LinkedIn),
Massimiliano Moroni,
Italo Mainolfi
Connected entities
Capital Solutions Ltd (Malta),
Big Horizons Ltd (Seychelles)
Big Horizons Ltd (Commonwealth of Dominica),
New Forex Limited (Commonwealth of Dominica)
Invest Group Global Ltd (Seychelles),
Dupay LP (previously Dubai FXM LP in the UK),
Dubai FXM Limited (Vanuatu),
DBInvesting Limited (Vanuatu),
DB Invest Limited (Seychelles)
DBFX Limited (Vanuatu)
Belight Capital Group Ltd (Cyprus)
Regulatory actions
warnings of CNMV and Consob,
Belight Capital Group (license revoked by CySEC)
Jurisdictions
Malta, Cyprus, United Kingdom,
Commonwealth of Dominica, Vanuatu, Seychelles,
The narrative
When visiting the NewFX, DBinvesting, and DBFX websites, clients from the EU are presented with a pop-up informing them that ESMA intention measures are not applied. It would be their responsibility to find a suitable broker. That's it, no IP blocker or other measures to avoid consumer onboarding in the regulatory regimes of EU member states. DBinvesting explicitly addresses Swedish consumers with a Swedish language option. The last time we checked, Sweden was in the EU.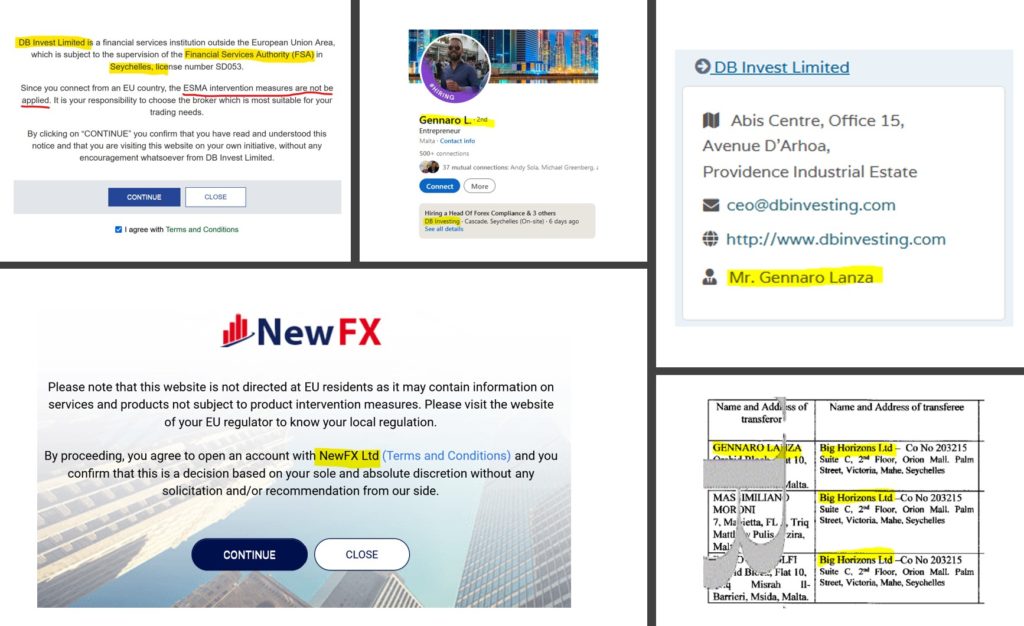 These offshore brokers have no authorization to offer regulated financial services in the EU and acquire clients. On top of that, the onboarding of new clients is done without proper KYC/AML. Clients can make their first-time deposits can without confirmation of identity. Thus, the three offshore brokers violate the regulatory requirements of the FCA and ESMA.
Although the brokers use offshore entities, their operations are done through offices in EU countries. For example, a Cyprus phone number for support is provided in the emails from NewFX. The boiler room behind the brokers is Gennaro Lanza's Cyprus-based Capital Solutions Ltd.
At the end of 2020, Italo Mainofli and Massimiliano Moroni resigned as directors of Capital Solutions and sold their shares to Invest Group Global Ltd, also registered in Seychelles. This offshore entity is controlled by Gennaro Lanza, who is also the only director of Capital Solutions. The Maltese companies register shows that Invest Group Global Ltd holds 99.5% of the company shares. The remaining 0.05% is held by the Indian Alpin Sha, who is also the company secretary.
Read Also – https://www.repdigger.com/orion-metal-exchange/
Birch Gold Group – $1.2 Million Lawsuit, Fake Reviews & More
Share information
If you have any information about Capital Solutions, NewFX, DBFX, DBinvesting, or the individuals and partners involved in them, please share it with us through our whistleblower system, Whistle42.